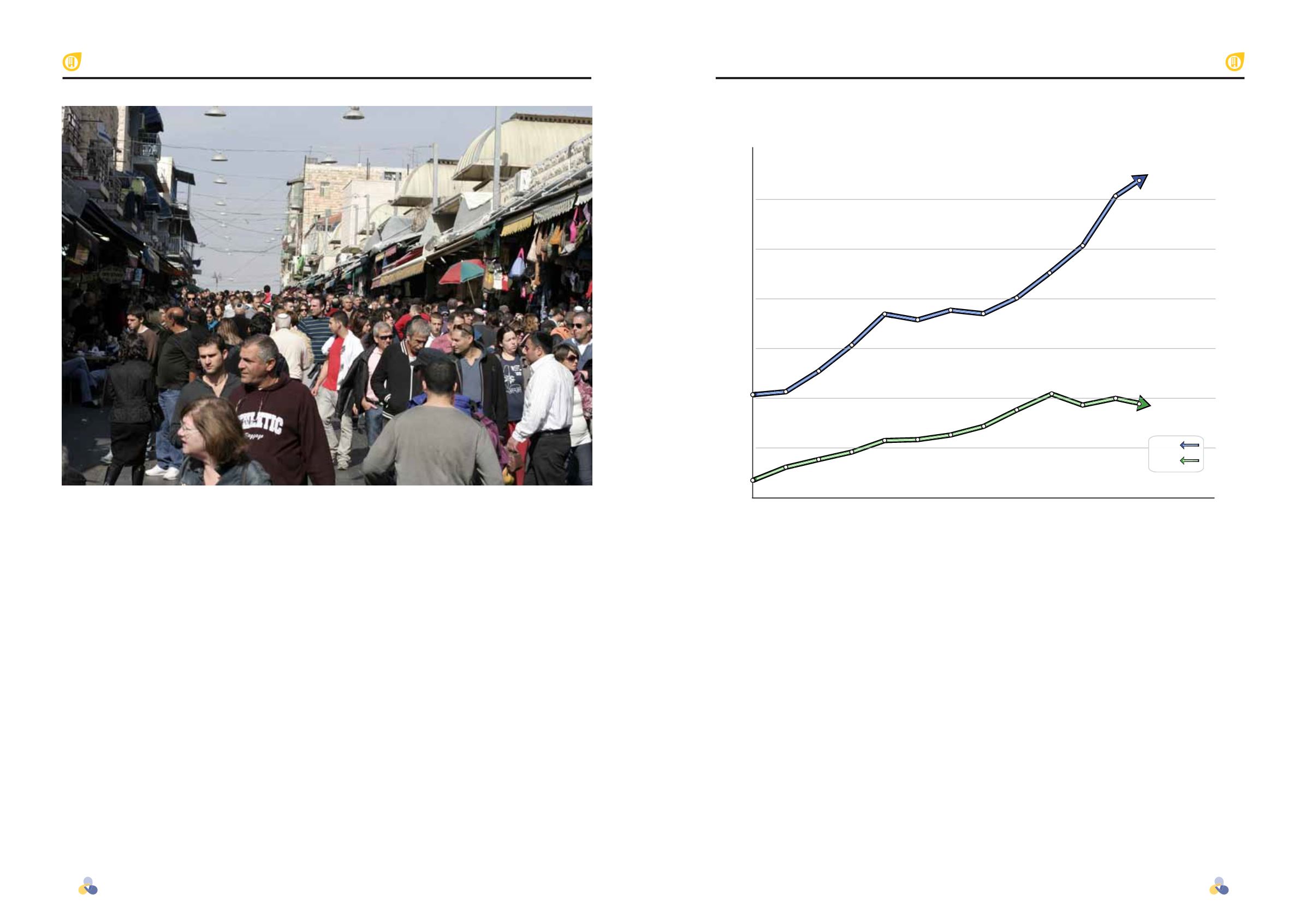 24
The Metropolitan Jerusalem Master Plan
The Metropolitan Jerusalem Master Plan
25
In the absence of the formulation
and implementation of policy
designed to stop Jewish
migration out of the metropolitan
Jerusalem region, the current
trend of an increasing proportion
of Muslims in the city will
continue in the future.
131,358
8,347
22,380
14,835
23,819
36,485
38,801
38,873
105,112
80,401
75,267
73,248
51,311
42,339
1955
40.000
60.000
100.000
80.000
120.000
140.000
20.000
1960 1965 1970 1975 1980 1985 1990 1995 2000 2005 2010 2015
Jews
Arabs
Birth rates in the State of Israel (1955 – 2013)
According to this calculation, the
general Arab population of greater
Jerusalem could reach est. 1,450,700
people in 2030 and est. 2,259,000 people
in 2050.
According to the US government
forecasts for natural population growth
amongst Arabs living in Judea and
Samaria, the number of Arab residents
in the Ramallah district will reach est.
910,100 people in 2030 and est. 1,109,400
people in 2050.
If all of the assumptions in the above
scenarios were realized, the greater
Jerusalem population could reach est.
5,229,500 people by 2050, of which
roughly 3,323,100 are Jews and 1,906,400
are Arabs.
Jerusalem Rebuilt
We posit that the policies aimed at
revitalizing the metropolis will bring about
a stable equilibrium between the number
of residents leaving and the number of
native Israelis and new immigrants. That
stabilization compounded with the current
2.4% annual natural growth rate (as of
2012) of metropolitan Jerusalem's Jewish
population could see the metropolis's
Jewish population reach an est. 1,029,700
people in 2030 and an est. 1,641,900
people in 2050.
Let us add to this the population data
of surrounding Jewish towns, locales
that according to the scenarios described
above are to be included in metropolitan
Jerusalem. If these areas continued their
5.2% annual growth rate, as they did
between 2009-2012, their population
would double in the next 14 years. If this
growth rate is sustained, the population of
these towns could reach 610,000 people
by the year 2030, and 1,681,200 people by
2050.
Therefore, in this scenario, the Jewish
population in metropolitan Jerusalem
could reach 1,639,700 by 2030 and
3,323,100 by 2050.
In calculating the demographic shifts
amongst Jerusalem's Arab population, we
will put aside the rapid decline in birth
rates amongst that population; rather, we
will assume that the natural population
growth rate amongst Muslims will remain
at the 2012 rate of 2.51% annually. This
would place Jerusalem's Arab population at
an upwards of 465,300 people by 2030 and
797,000 by 2050.
We will likewise calculate based on the
assumption that the annual population
growth rate for the Arab population in the
Bethlehem district will remain as it was
in 2012, namely 2.1% annually. In such
a scenario, the population of these two
districts could reach some 965,300 people
in 2030 and some 1,462,700 in 2050.
Jerusalem is one of the
most diverse cities in Israel
in terms of population
makeup. Managing its
demographic makeup is
a national and societal
challenge of great
importance. The human
diversity of Jerusalem as
reflected in the Machane
Yehuda market, winter
2011.
(Photo by Uri Brownstein)
Jerusalem Rebuilt